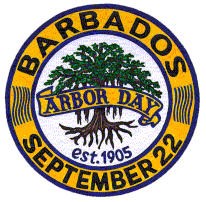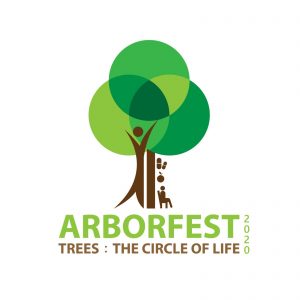 Dear Exhibitor,
The Board & Management wishes to invite you to participate in ARBORFEST 2020: ARBORFEST – Barbados' first annual tree festival. The festival is scheduled to take place from September 18, 19, 20 & 21, 2020 in the National Botanical Gardens. We have taken the liberty to attach a copy of the registration form. Please note that it is important to complete all sections of the form including electrical and water requirements.  You may also take the opportunity to highlight the products &/or service that you are interested in displaying/selling at the festival.
Should you have any questions or need more information please contact our Public Relations Department at Telephone Number: 536-0662.  E-mail: ncc@ncc.gov.bb,  specialprojectsoffice@ncc.gov.bb,  ricardo.marshall@ncc.gov.bb
Trees are indeed the "Circle of Life" and there are so many items, food, and drinks etc that are derivatives of trees that we consume on a daily basis. ArborFest 2020 offers good position selectivity and is an excellent opportunity to highlight your products and your environmental stewardship. See you in the National Botanical Gardens on September 18, 19, 20 & 21, 2020.
Yours faithfully,
__________________________
for General Manager (Ag)
Ryan Als
National Conservation Commission
Description of Arborfest 2020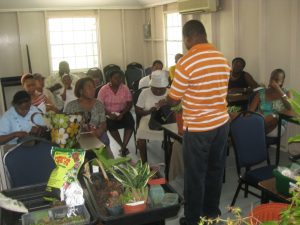 The National Conservation Commission, the co-coordinating agency for National Arbor Day (celebrated on September 22nd annually), a day for planting trees, is continuing its efforts to promote a more sustainable standard of living under the theme   "TREES: The Circle of Life". This year we will be reintroducing the Arbor Expo to our environmental calendar after a three year hiatus. However we intend to expand the event to allow for more exhibitors to participate the event. As such, the event has been rebranded as ArborFest 2020 (Festival of Trees).
Forests and trees help to mitigate climate change by absorbing carbon dioxide and storing carbon. They can also help to reduce the vulnerability of people to climate change by providing food and other ecosystem services during critical periods of climate driven food shortages etc. Trees are a source of livelihood for many as they generate revenue from the bounty obtained thereof.
The focus of Arborfest 2020 therefore is to promote the importance of trees and their impact on the environment, through a practical/interactive demonstration. The expo will also showcase various products and services consumed and utilized on a daily basis, which are derived from trees.  Emphasis will be placed on increasing awareness about environmental issues and highlighting environmentally-friendly products, services and ideas as well.
Additionally, in order to create a more family oriented atmosphere, the Commission will be infusing other elements such as a 5-Day Plant Sale, traditional treats, a Farmer's Market, a Kid's Zone & much more.
Workshops & Demonstrations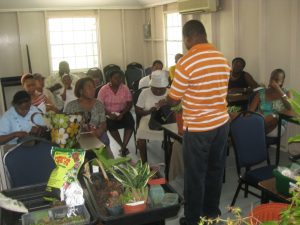 Workshops and various demonstrations will also be an integral component of the festival. A number of workshops will be scheduled during the day, focusing on pertinent areas as it relates to greening including plant care, plant propagation, apiary management, recycling, pests & diseases, composting and alternative energy solutions. The festival will also provide visitors with the opportunity to garner information that will assist them in adopting a more sustainable lifestyle.
5-Day Plant Sale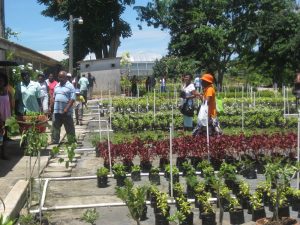 A plant sale will run for the duration of the Festival, offering up to 20% discounts on selected plants. We will also use this opportunity to showcase other products and services that are available at our Garden Centre.  Products include bee keeping equipment, play equipment, park furniture (seating), paving stones and garden accessories such as plant pots, fertilizers etc.
Benefit to the Public
The festival will provide an educational, motivational experience suitable for the entire family, while providing an opportunity for small entrepreneurs to showcase and sell their products &/or services. There is no exhibitor's fee. However, exhibitors will be asked to make a contribution to the advertising and administrative costs. (Please see below)
| | |
| --- | --- |
| tENT sIZE | cOST |
| 10" X 10" | $50.00 |
| 20" x 20" | $75.00 |
| Table | $20.00 |
|   |   |
It is intended to raise the environmental consciousness of the populace and assist in the cultivation of a more environmentally conscious and friendly Barbados. … and it's FREE!       
Don't Hesitate… Participate… It's Going to Be Great!!!!!!
     Festival Hours
| | | |
| --- | --- | --- |
| Day/DATE | Time | Target Audience |
| September 18 – 21, 2020 | 10:00a.m. – 6:00p.m. | Schools & General Public |
| | | |
Site Visit
Exhibitors will be advised of an official site visit which will be arranged prior to
the set-up dates.
Deadline – Interested persons may contact our PR/Marketing Department at 536-0662/0663. Potential exhibitors may also visit the NCC website at www.nccbarbados.com  to download the registration form which should be submitted to the NCC's headquarters at Codrington, St. Michael on or before August 14, 2020.
BOOTH RESERVATION INFORMATION
SEPTEMBER 18, 19, 20, 21, 2020
NATIONAL BOTANICAL GARDENS, ST. MICHAEL