Adopt-a-Beach/Park/Square Program Independence Square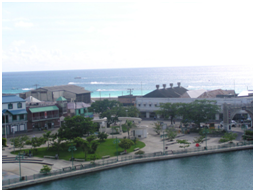 The Commission has the responsibility for the maintenance and upkeep of Independence Square, which fall within the UNESCO World Heritage designation of historic Bridgetown and its Garrison.   It is within this context that we offer your organization an opportunity to participate in the National Conservation Commission's "Adopt-a-Park/Beach/Gardens Programme".
The programme seeks to promote public/private sector &/or community participation in the maintenance, improvement and support of the island's public parks/beaches and gardens, through the fostering of strategic partnerships. Independence can be considered prime government real estate with great and significant historical value and it is currently available for corporate adoption.  The Square is located practically in the centre of Historic Bridgetown and it is one of the largest on the list of green spaces within the Bridgetown catchment area.
What are benefits of the programme?
The Commission will be responsible for the following:
Cost of Adoption/Maintenance
The monthly fee for adopting Independence Square is five thousand dollars ($5,875.00) per month V.A.T. Incl. or seventy thousand five dollars ($70,500.00) annually V.A.T. Incl.
An organization that seeks to develop and maintain strong and mutually beneficial relationships with its community and takes an active interest in community well-being will generate community support, loyalty and good will.
Please feel free to contact Mr. Ricardo Marshall at Tel: 536-0617 to discuss this exciting opportunity.
Independence Square – A little bit of History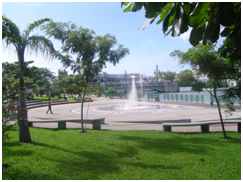 Independence Square is located on the waterfront in the heart of the capital city of Bridgetown. For a casual passerby strolling through Independence Square, it is almost impossible to fathom that not too long ago this nearly 50,000 square foot civil square was once one of Bridgetown's main parking areas.
Where cars once stood, one is greeted by lush greenery and fountains interrupted at convenient intervals by several sculptural seats, paving mosaics, an amphitheatre and a modern washroom facility offering a magnificent view of the inner Careenage and the majestic Parliament buildings.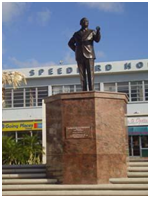 The parking lot was transformed in 2005 as a part of the beatification environmental project. The  square was officially reopened in a spectacular  ceremony held   on Errol Barrow  Day (21 January,   2007), attended  by thousands of  Barbadians, and   without  doubt,  some  visitors to the  island.  A nine foot tall bronze statue of Barbados' Father of Independence and First Prime Minister, the Rt. Ex. Errol Walton Barrow is the square's   main attraction, a national symbol of independence and pride. 
Breathing Life into Historic Bridgetown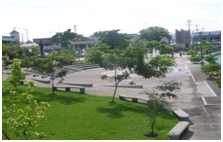 The intrinsic value of green spaces in our city and urban areas should never be underestimated. When we responsibly manage our green infrastructure for recreational and/or urban biodiversity outcomes, then we truly nurture a sense of social coexistence and connection between community members and the natural environment. 
Amazingly there is a symbiotic relationship which can exist between humans and wildlife in green areas of urban environments. The retention or creation of green spaces such as Independence Square will continue to provide us with multifunctional and dynamic systems in which to live and co-inhabit with nature and urban planners have recognized this as being an integral factor in achieving sustainable development and essential ecological services in our cities.
Such urban green spaces may be looked upon as multifunctional systems of considerable importance in the quest for sustainable development, including recreational purposes and other features important for human well-being, contributing significantly to people's quality of life within the city as they also provide a place for exercise, relaxation and social interaction. Independence Square in particular is heavily utilized by the public for national, corporate and private events throughout the year.
Green Spaces such as this also provide youth with an acceptable place in which to socialize, it also creates a space where they can interact with other members of the community. They provide a sense of place and belonging, opportunities for recreation, health and fitness, events that reinforce social cohesion and offer an escape from the stresses and strains of modern urban living which is often compounded by the built environment. One postulated mechanism by which green spaces influences physical health is through its effect on physical activity levels. Green spaces offer opportunities for beneficial "green exercise" such as walking.  Several reviews support this view as there is some consensus that the built environment can either facilitate or constrain physical activity.
Further, promoting natural vegetation within the environs of the city strengthens resistance to floods and droughts, and promotes healthier biological processes such as pollination. These green spaces essentially breathe life into the city. Give us a call today. Adopt Independence Square
Contact Info
Please call Mr. Ricardo Marshall – Tel: 536-0600
Email: ricardo.marshall@ncc.gov.bb